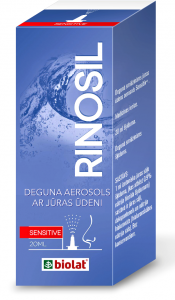 RINOSIL sensitive
Medical device Spray 20 ml
for ease of breathing.
Nasal passages for the removal of scabs and allergens.
- Natural sea water
- Dexpanthenol
- Sodium hyaluronic acid
Product description
Moisturize, cleanse and restore sensitive mucous membranes.
The isotonic sea salt solution effectively moisturizes the mucous membranes and scabs, and removes pollen and household dust.
Use of the Product
Sodium hyaluronate and dexpanthenol additive maintains and promotes repair of damaged mucous membranes.
For adults and children from the age of 2.