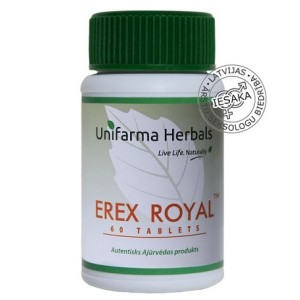 EREX ROYAL N60
Helps maintain male sexual function. Helps maintain sperm volume and motility.
It is especially recommended for middle-aged men as a preventative measure to maintain a healthy sexual relationship into old age.
Product description
Composition: 1 pill contains:
Chlorophyll leaf extract 1:10 - 150 mg;
leaf powdered aster seeds - 240 mg;
the root of the sleeping sickness - 50 mg;
fragrant nutmeg tree fruits - 50 mg;
ipomeome fruit bodies - 50 mg;
mummy - 50 mg;
Excipients: magnesium stearate (anti-caking agent), carboxymethylcellulose (bulking agent).
Use of the Product
Usage: 1 pill 1 hour before sex.
Attention! Do not use if you are allergic (hypersensitive) to any of the ingredients.
Do not exceed the recommended daily dose.
Nutritional supplement no substitute for a wholesome and balanced diet!
Manufacturer: Aptiekas Produkcija, Latvia
PACKAGE: 60 Pills