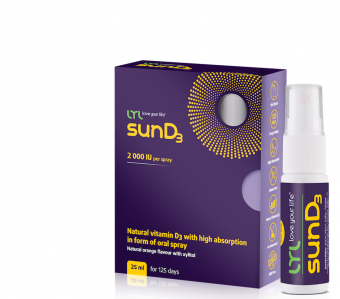 LYL Sun D3 Spray
Nutritional supplement 25ml
High absorption natural vitamin D spray with orange flavour
For normal bone function and development, immune system function
Product description
The liquid form of the vitamin guarantees a firm and fast absorption of the vitamin - up to 95% compared to vitamin D3 in capsules or drops. The convenient vial packaging is designed for 125 uses or 4 months. Xylitol is added to Vitamin D3 for oral and dental health.
Highly absorbed, naturally occurring vitamin D3 (derived from lanolin).
Contains as min. 125 doses.
2000 IU ** / 50 µg
Vitamin D promotes the normal absorption and use of calcium and phosphorus, helps maintain normal calcium levels in the blood, helps maintain normal bone function, dental and muscle health, promotes normal immune function, and is essential for cell division.
Vitamin D is necessary for the normal growth and development of bone in children.
Ingredients: purified water, xylitol (sweetener), naturally occurring cholecalciferol (vitamin D3 derived from lanolin), natural orange flavoring, citric acid (acidity regulator), xanthan gum (thickener), potassium sorbate (preservative).
Instructions for use: Shake well before use.One spray per day, after a meal, under the tongue or inside the cheek.Once opened, use within 6 months. Also suitable for children over 1 year of age, as directed by your doctor. Keep out of reach of children, at room temperature, away from direct sunlight. Do not exceed the recommended daily dose. IS NOT A SUBSTITUTE FOR A FULL AND BALANCED DIET.
Free of gluten, colorings and GMOs.
Use of the Product
One serving (0.2ml) contains 50µg of naturally occurring cholecalciferol (vitamin D3), or 1000% of the NRV *.
NRV * nutrient reference value
SV ** - International Units
Net weight of product: 25ml / 125 puffs.
Storage : at room temperature not above + 25 ° C.Once opened, use within 6 months.
Manufactured by: Valens Int.doo, Slovenia for "pharm & med " Ltd., 120Z Dzelzavas Street, LV-1021 Riga, Latvia.Tel.+ 371 20 260 260.